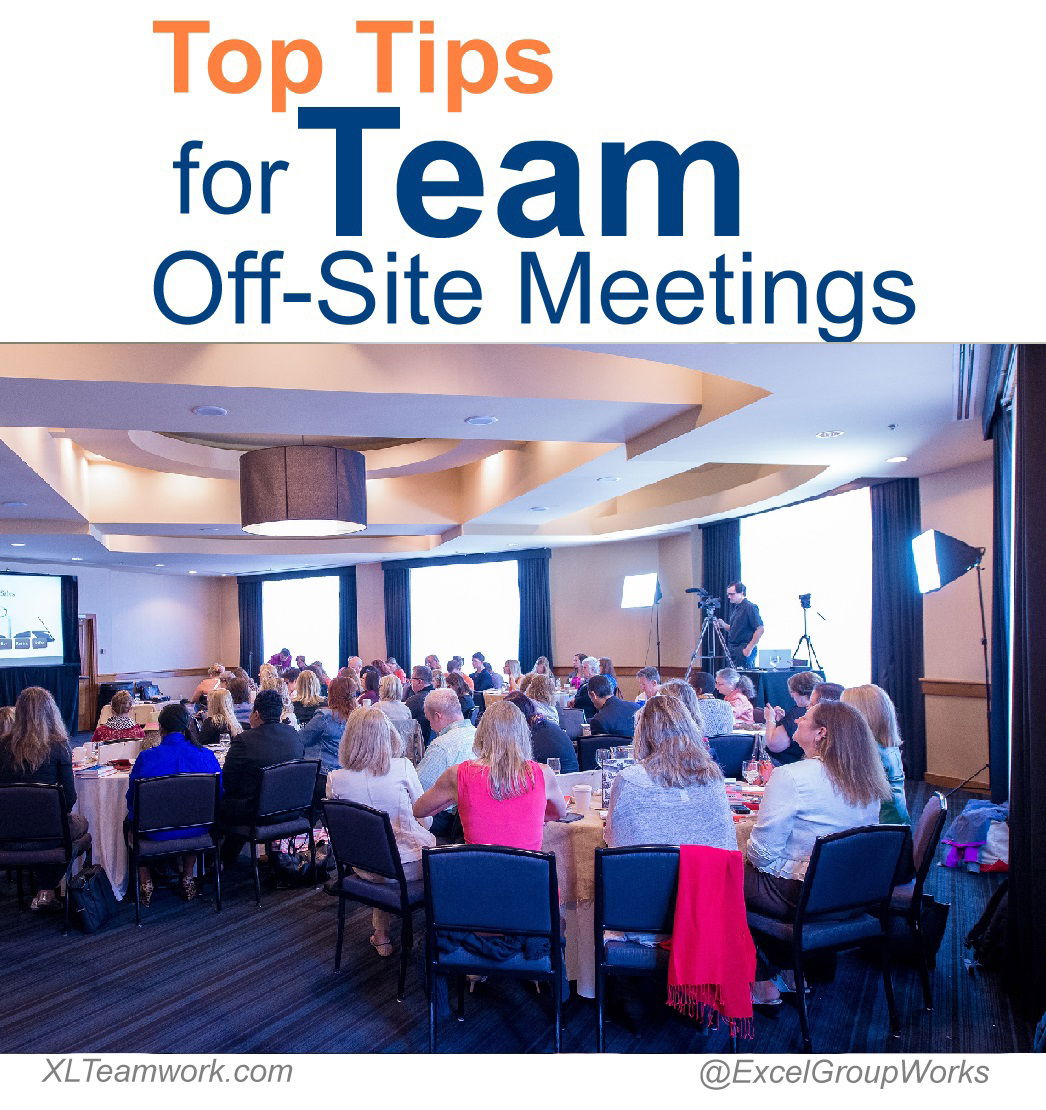 After a few years of remote work and virtual meetings, many organizations are recognizing that the talent in their teams are "zoomed out" and are benefitting from planning engaging and safe in-person meetings. Some team members hired during the pandemic are excited to meet their colleagues and managers in person for the first time. How can you plan a great meeting that engages your team? Below are a few tips to consider.
For every manager with a great reputation for leading offsite meetings, there is a manager who is known for planning meetings that provide cerebral nap times.
Offsite meetings can be great tools to re-calibrate, motivate, brainstorm, and creatively connect with staff. In a world of virtual teams, email and Zoom/Skype meetings, there is a special need for offsite meetings where teams can connect in person without interruptions or work distractions. Having had the privilege to work at many client team meetings, and sales/management conferences over the last 20 years, we have often been relied upon for some advice in planning and referring locations etc..
Unsurprisingly, perhaps, we've also heard from clients about the offsite meeting nightmares they've endured in the past, meetings that haven't exactly led to better team cohesiveness or the fostering of future buy-in. While large conferences often employ teams of internal and/or external meeting planners, smaller offsite team meetings are generally left to a manager to arrange, perhaps with the help of an assistant or coordinator. These off-sites can have a variety of stated purposes, from building strategy to quarterly business review, often sprinkled with a dash of fun and "team-building".
So if you or a colleague are in charge of organizing the team's next offsite, here are some of our top Do's and Don'ts to consider:
Do's...
Do choose a creative location
If your goal is to get undivided attention away from the office, choose a nice location (and go see it yourself, first). Whether it be an original school house or a place overlooking a lake or waterfall, select a spot with some independent appeal. This will be especially valued by attendees if your session involves being away from their families for an overnight stay. The opportunity to walk in some green space at break times is often refreshing. We've attended events at castles, cooking schools, bed and breakfasts, and even a unique funeral home. Many resorts have some different pros and cons. From Meeting Rooms and Resorts in Blue Mountain Ontario to golf clubs in Dominican Republic or Dolce Hayes Mansion in California, there are endless options to suit your group and budget. On suggestion we share with clients is ask about seating. Seating comfort will enhance meeting engagement, reduce fatigue and increase interaction vs having team members look at their watches to see how soon they can leave. The longer the meeting the more important to prioritize comfortable swivel-tilt chairs over standard hard seated banquet chairs.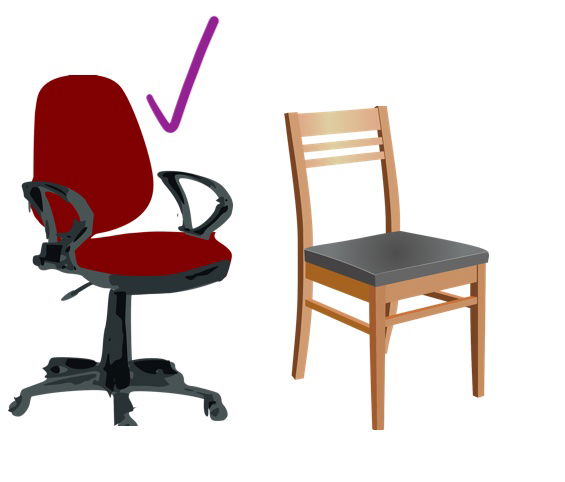 Do customize to your audience
This means you need to know how to pack the "what" into the meeting. I recently attended a large evening event that featured a former NHL hall-of-famer, now in his late-60's. Some certainly enjoyed it, but others (the audience contained a demographic range with millenials</span><span style="font-size: 14px;">&nbsp;) had not even been born yet when he was a player, and probably wished he had gotten the hook from stage right a little sooner. Know your audience, and make sure your planning reflects that.



Do schedule for engagement
Plan interactive dialog vs. an "information dump". Team meetings are an excellent opportunity to gain input and brainstorm team solutions. If you spend the day talking "at" vs. "with" the team, don't be surprised to see the smart phones come out as they disconnect from meeting content and connect to other issues online. (email us for a free article on a creative problem solving technique any group can use in a meeting)


Do engage in Team Activity
Feature something unique, beyond just the same-old, same-old. This is where

outside vendors or consultants may help.

Do your homework and relate it to the day. Be fun, but not frivolous. We've been asked to work at multi-day team offsites where our sessions were integrated with unique add-ins such as "team drumming". On the other hand, know your group; you may get a big "yawn" with the old ropes courses from the 90's.


Do energize the atmosphere
Ever attend a cocktail party in a library quiet environment? There is no buzz kill like having complete silence when a group gets together, which is why you hear music in Starbucks locations. Play music at the beginning, while attendees are arriving or having coffee, and at content break times. It could be smooth jazz instrumental or some genre that appeals to the group. Note: it shouldn't be loud and distracting, so nix the Twisted Sister or Profanity-laced Snoop Dog (or Lion). You may even want to appoint a team DJ to select some tunes the team would like and have them create the play list.


Do consider a good outside speaker and if larger conference, a good meeting planner.
Partner with an outside speaker who can add value and bring a new perspective to your team. Be sure to brief your speaker with general info about the team, the goals and themes of the offsite, as well as any recent issues to be aware of. If they are good, they will weave your theme and team objectives into their presentation. Another "outside voice" idea is to bring in a client or customer panel to add a valuable perspective. For larger meetings/conferences a good meeting planner or event firm can ensure a productive event aligned with strategic direction.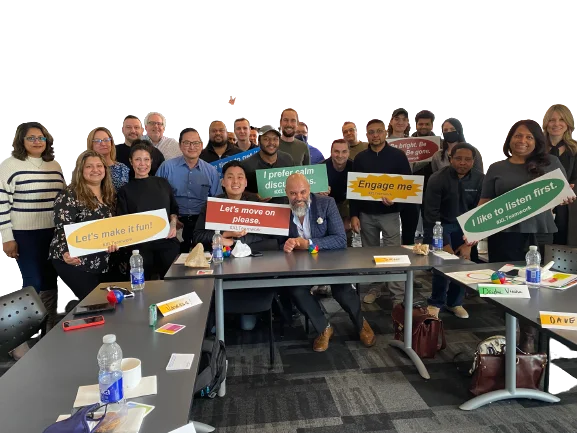 Do communicate while planning
Build engagement before the event by communicating goals and desired outcomes of the meeting. If there is some prep work to be completed, send it out in advance with clear deadlines. You could even send out 'welcome' emails or cards the week before the session. We had one client that did this with the simple question, "What will next year look like?" on the card in advance of a planning meeting. Afterward, send out a follow-up communication thanking them for their participation, and summarizing the key points addressed, if appropriate.

Don'ts...
Don't procrastinate in your planning
A good team meeting requires forethought and planning. Allow time for all the content and logistics to be mapped out for a successful team event. Also, allow team members time to plan their personal lives around it. If it is overnight they may require notice to schedule baby sitters or dog walkers, etc.
Don't put team members on the spot in front of peers
If you would like any of the participants to speak at the offsite, be sure to advise them in advance. If you are planning to ask them questions about their area of business, let them know ahead of time so that they aren't caught off guard. Not everyone is comfortable speaking extemporaneously, and most would appreciate being able to prepare.



Don't encourage excessive alcohol consumption
Many years ago, we were asked to provide facilitation at an overnight offsite meeting of national sales managers. There was an email sent out prior, stipulating no alcohol at the 3-day event. When we asked about it, we were told that they had encountered issues at previous events and for safety and liability reasons, they now have a no-alcohol policy.


Don't forget to do a post survey
Find out what they liked – and what they didn't like. Asked what ideas they came away with, and what they'd do differently next time.
Most teams are working pretty hard these days. If you have team offsites, develop a reputation for leading great meetings. Make use of offsites to allow for team connection and fun, along with the content, and you will build engagement and interest from the moment you announce the date. If you have a team meeting, management or sales meeting coming up and you're looking for suggestions, feel free to email us and ask any questions.
In the Spirit of Growth,

---
As Chief @ XLTeamwork.com Chuck is a Creative business leader/writer/husband/dad/

real estate investor. Passionate about leadership, faith, family, entrepreneurship, and helping organizations understand and leverage their talent. Visit www.XLTeamwork.com

for more information.



Contact us to learn more about what we could do to make your team meeting or conference a success.
Stay connected and lets share ideas together that help others Excel.

#XLTeamwork #Hirerightfit #Talent #teamwork #coaching #leadership #meetings #conference #meeting #salesteam #sales #disc #discstyles #Bluemontain #toronto #vancouver #montreal #collingwood #meetingplanners #recruitment #management #engagement